Copper Gutter Installation
By Scheduling Your Free Consultation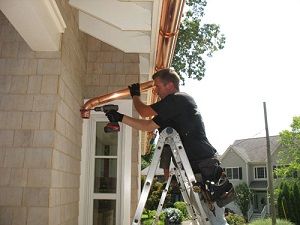 Copper Gutter and Downspout Installation in Virginia, Maryland, and Washington, DC

Improve the look of your home with copper gutters & downspouts.

If you're looking for a unique finishing touch for your home, copper gutters are a great choice. Copper gutters will make your home stand out and provide you with a custom appearance while still offering the durability and performance you need from your gutters.

Hometown Gutters & Guards specializes in copper gutter installation, and we can help you determine what options are the right fit for your home.

If you're interested in copper gutter installation, click below to get started.
We offer free estimates on all our work in Reston, Arlington, Fairfax and the nearby areas.