Copper Gutter Installation
Copper Gutter and Downspout Installation in Virginia, Maryland, and Washington, DC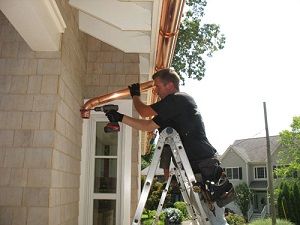 Improve the look of your home with copper gutters & downspouts.

Looking for professional copper gutter installation in Northern Virginia? At, Hometown Gutters & Guards we provide quality services at competitive rates and with reliable, efficient results. Our team of experts have the knowledge and expertise to install or replace your gutters correctly and quickly so you can be sure they will last.

If you're looking for a unique finishing touch for your home, copper gutters are a great choice. Copper gutters will make your home stand out and provide you with a custom appearance while still offering the durability and performance you need from your gutters.

Hometown Gutters & Guards specializes in copper gutter installation, and we can help you determine what options are the right fit for your home.

No matter how complex the installation may be, our team of experienced professionals can handle it. Our knowledgeable experts offer accurate and reliable advice about selecting a gutter system that is best for your home's needs. We use only the highest quality materials to ensure you will get the most out of your copper gutters for years to come. Plus, we keep our rates competitive so you don't have to worry about unexpected bills or costly repairs down the line.

From planning and pre-measuring to installing and troubleshooting, we take care of it all with our copper gutter installation solutions in Northern VA. Our team puts safety first, ensuring that everything is done securely and up to code before moving on to the next phase. We understand how important it is for your system to work harmoniously with your home's existing features and terrain, so we put a lot of effort into finding the perfect balance. When you are searching for reliable copper gutter installation solutions in Northern VA, turn to us – the go-to experts.

At our company, we provide customized service to make sure that all of your requirements are fulfilled. Plus, you can use pricing estimator tools to get an accurate quote before we start working. We use superior materials and thoroughly inspect every aspect of the gutter installation process in order to ensure top-notch quality throughout. From planning and pre-measuring to installation and maintenance, we are here for you with copper gutter installation services in Northern VA. Reach out today and let us do what we do best - helping you prepare your home for any season while keeping safety top of mind.

With a team of experienced professionals, our highly trained crew is your #1 choice for copper gutter installation in Northern VA. We ensure that all of materials used are top quality and long lasting, while our approach takes into consideration every element - from existing levels to fluxes. Our specialists have the certification and qualifications necessary to carry out the job efficiently and effectively, so you can rest assured knowing that your project is being done professionally. Plus, we take extra measures to abide by safety regulations and get the job done right the first time around.

If you're interested in copper gutter installation, click below to get started.
We offer free estimates on all our work in Reston, Arlington, Fairfax and the nearby areas.