MasterShield Gutter Guards Installed by Alexandria, Woodbridge, Manassas's Trusted Experts
Gutter guards offer the ideal weather protection for your home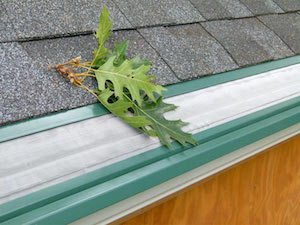 Gutter guards help eliminate the risk of overflowing gutters and water damage to your home.
Are you sick and tired of cleaning your gutters? Or are your gutters leaking or sagging? All of these issues and more can be solved by installing gutter guards with MasterShield Gutter Guards. Gutter guards are a protective covering placed over the gutter that allows water to enter but blocks leaves, twigs, and other debris. Installing gutter guards is a "once-and-done" upgrade that will protect your home from all kinds of moisture damage.
With MasterShield gutter guards, you get the benefit of a thin yet very strong aluminum frame. These gutter guards easily conform to all of the imperfections often found with your existing gutters, including wavy fascia boards or warped subroofs, allowing for the ultimate gutter guard performance.
If you're interested in gutter guard installation for your home, call us today at 1-844-413-7115 or contact us online to get started with an inspection and estimate. We offer free estimates on all our services in Woodbridge, Manassas, Alexandria and the nearby areas.
Why choose MasterShield Gutter Guards for your gutter guard needs?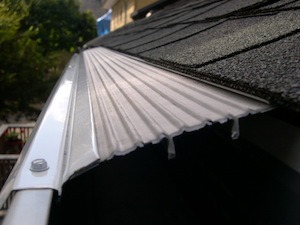 An up-close look at our HydroVortex Technology.
When you work with MasterShield Gutter Guards, we can install a system that works in tandem with the existing pitch of your roof. Add to this our HydroVortex Technology, which was developed so that your gutter protection could be installed on an angle, and your gutter problems will cease entirely. Water has a tendency of overshooting other products, but HydroVortex overcomes the natural way water wants to remain moving forward; it allows water to be pulled into your gutters, even if placed straight up and down.
MasterShield Gutter Guards offer unique benefits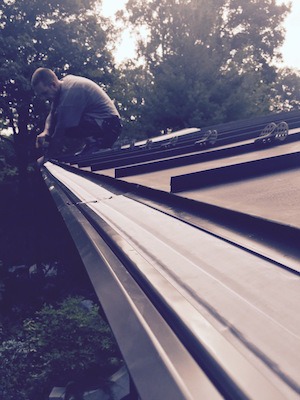 We can install MasterShield Gutter Guards on new or existing gutters.
MasterShield Gutter Guards' gutter guards have a number of features that make them the best pick for your home:
The only under-the-shingle micro filter gutter guard with the Shingle-Safe™ back. This type of installation has been approved by four of the nation's largest shingle manufacturers.
The first gutter guard designed to be pitched with the roof to minimize homeowner maintenance.
The only gutter guard with a customizable, flexible back to adjust to multiple types of installations (under the shingle long fin/under the shingle short fin, fascia mounted, hidden hanger mounted).
The first gutter guard with a built-in solution to dripping.
The only gutter guard capable of filtering water vertically.
The first interlocking micro mesh gutter protection system.
The first roll formed gutter guard to feature built in I-beams for added strength.
Our MasterShield Gutter Guard System is the best of the best
We offer the only multi-patented gutter guard system that requires zero maintenance! We put our money where our mouths are. We are so sure our product works and will be installed to our high standards that we will fix or refund your money if your gutters clog. Period! All other gutter guards still needs cleaning – why would you waste your hard-earned money on old technology?
We will protect your gutters against the following:
Pine needles
Pin oak leaves
Maple helicopters
Oak tassels
Any flowers or buds
Shingle grit
Nothing gets in your gutters but rain water. Guaranteed!
What if I also need new gutters?
MasterShield Gutter Guards are gutter and water management experts. We will design a total gutter system custom-made to handle the water around your home! Our gutters come in a variety of sizes and styles – read more about our gutters and downspouts to find out what options may work for you!
Upgrade your home with quality gutter guards today
If you have issues with clogged gutters or gutters that frequently need to be cleaned, gutter guards could be the solution you need. The gutter experts at MasterShield Gutter Guards can inspect your home and recommend the right products for your needs.
If you're interested in gutter guard installation for your home, call us today at 1-844-413-7115 or contact us online to get started. We offer free estimates on all our work in Manassas, Woodbridge, Alexandria, Centreville, Springfield, Annandale, Reston, Chantilly, Burke, Sterling and the nearby areas.
Looking for a price? Get a no cost, no obligation free estimate.