Seamless Gutter Installation
Seamless Gutter Installation in Reston, Arlington, Fairfax & Northern VA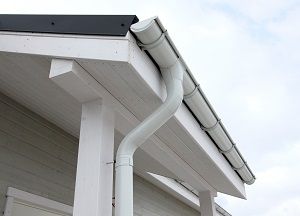 Upgrade your home with quality gutter and downspout installation.

When it's time to replace your gutters, it's important to get the right solution for your home.

At Hometown Gutters & Guards, we install quality gutters in a variety of materials from industry leading manufacturers. Our gutters always provide the durability and weather protection you need while ensuring your home has a great finished appearance.

If you're interested in gutter installation for your home, click below to get started.

Our experts will evaluate your home and recommend the right solutions for your needs.

The Benefits of Seamless Gutters
While all gutters are built to collect rainwater and carry it safely away from your home's roofline, not all gutter products offer the same level of performance that you'll get with seamless gutters from Hometown Gutters & Guards.

Unlike traditional sectional rain gutters, which are crafted with numerous seams that can become leaky and allow debris to collect, our seamless gutters are custom fabricated on site to ensure a perfect fit and a 100% seamless profile.

Built from heavy-duty aluminum, our seamless rain gutters provide benefits that include:
Remarkable durability thanks to corrosion-resistant materials

Weather resistance provided by a high-capacity design to handle even the heaviest of rainfall

Low maintenance requirements, taking one more chore off your regular to-do list

An attractive appearance that won't detract from the curb appeal of your home
For extra protection against gutter clogs, our seamless gutters can be paired with our premium gutter protection system that prevents debris from entering your gutters and being able to form clogs in the first place.

Turn to the Local Seamless Gutter Specialists
When it's time for a gutter replacement at your home, go with the product you can count on for a reliable performance year after year: seamless gutters from Hometown Gutters & Guards.
As a full-service gutter company with an outstanding reputation serving homeowners in the Northern VA, area and beyond, we are your source for exceptional products and services that will exceed your expectations.

Contact us today to learn more and get your gutter installation project started.

We offer free estimates on all our work in Fairfax, Reston, Arlington and the nearby areas!